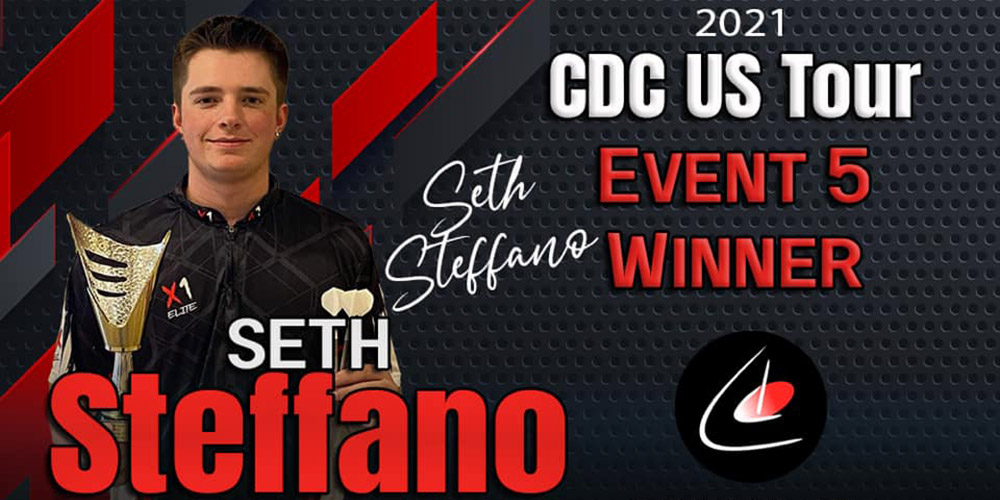 Seth Steffano Strikes Gold in Philadelphia
For the second consecutive day, a first-time winner was crowned during the Championship Dart Circuit's United States series in Philadelphia. Following Adam Sevada's victory on Friday, Seth Steffano won on Saturday to earn his first title. It is also the second consecutive event that featured a winner who earned their entry into the Main Event by winning a pre-tournament qualifier earlier in the day.
Steffano won an even-matched, back and forth final over Jules Van Dongen 6-4. Van Dongen won the first two legs and was up 3-2 until Steffano won four of the last five to seal the victory. Steffano averaged 91.2 compared to Van Dongen's 90.1 average. Jules Van Dongen had five 180s in the match.
Both players had tough roads to the finals. After defeating Gary French and Patrick Gibson in the first two rounds, Seth Steffano shocked Danny Lauby Jr 5-4 in the third round and then defeated Alex Spellman 6-5 in the quarterfinals and Chuck Puleo 6-3 in the semi-finals.
Meanwhile, Jules Van Dongen, who breezed through the first two rounds, defeated Darin Young 5-3 in the third round and Jeremiah Millar 6-1 in the quarter-finals to set up a clash with Leonard Gates in the semi-finals. Gates came out on fire, establishing a 4-2 lead while averaging nearly 110 over the first six legs. Van Dongen weathered the storm, caught fire himself, and won four of the last five to complete the comeback and 6-5 victory.
Other notable results: Adam Sevada's bid for back-to-back wins ended in the third round with a loss to Alex Spellman. Daniel Baggish and Gary Mawson both lost in the quarterfinals, while Larry Butler, who struggled to find his form, and Nick Linberg both fell in the second round.
Leonard Gates' 91.77 average led the way in Event #5, so did his 46% checkout success and twelve 180s. Despite the superb statistics, it didn't result in the victory on this day.
Article by Brian Fraser
September 18, 2021
https://champdarts.com/wp-content/uploads/2021/09/blog-steffano-strikes-gold-in-philly.jpg
500
1000
DoubleOut170
https://champdarts.com/wp-content/uploads/2019/09/cdc-logo.png
DoubleOut170
2021-09-21 20:20:40
2021-09-21 20:20:40
Seth Steffano Strikes Gold in Philadelphia