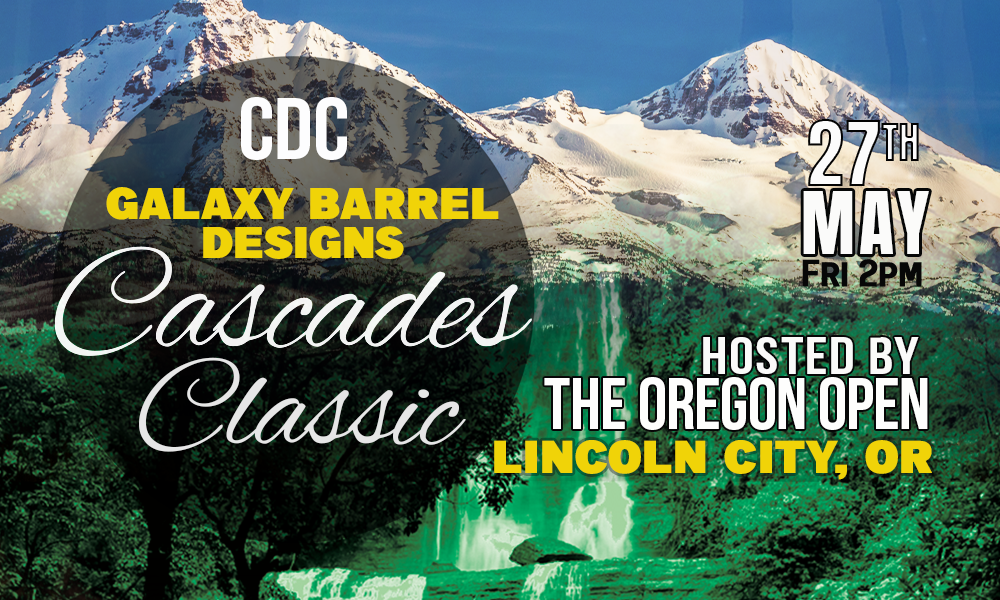 The CDC Galaxy Barrels Design Cascades Classic
Join us at the Oregon Open as they host the inaugural CDC Cascades Classic presented by Galaxy Barrel Designs!
This is a set-play tournament with a maximum of 48 players – open to all. Registration is on a first-come/first-served basis.
EVENT FORMAT:

Best-of-three sets, best-of-three legs per set from the preliminary round through the quarterfinals
Best-of-five sets, best-of-three legs per set in the semifinals and final.
CDC Bull-shot rule is in effect – player on the top of the bracket MUST throw for the bull first. No measurement – two darts outside the 25 or 50 result in a re-throw in reverse order, as do ties in the 25/50. Winner of the bull starts the odd-numbered legs in the odd-numbered sets (legs 1 and 3 in sets 1,3,5). Loser of the bull starts the odd-numbered legs in the even-numbered sets (sets 2,4).
CDC Dress Code is in effect: Business casual clothes (khakis or dress pants with a collared shirt.) No denim or shorts. Dress shoes or all-black sneakers are acceptable.
There will be NO drinking of alcohol allowed during matches. Players will be allowed to drink only the water provided by the tournament staff while engaged in a match. Alcohol consumption is allowed between matches.
This is a loser-marks event. The first match on each board will be marked/scored by the last player drawn onto that board. Each subsequent match will be marked/scored by the loser of the previous match.
PAYOUTS (in USD):
1st: $800
2nd: $400
Top 4: $200
Top 8: $100
Please direct any questions to the tournament staff onsite or to info@champdarts.com in advance.
Good luck!