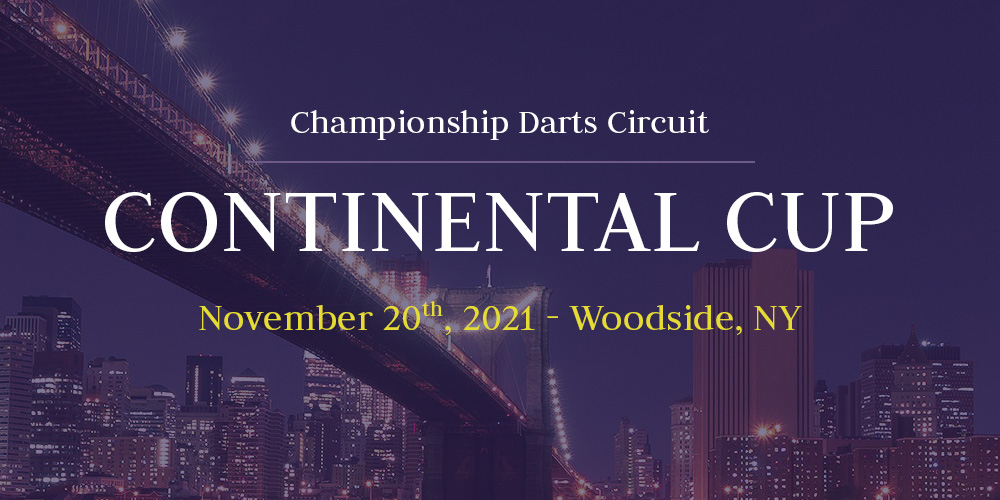 2021 CDC Continental Cup
The Premier Darts Circuit in North America brings its Prestigious Championship back to the Big Apple!
CDC "Continental Cup" Tour Finals Championship presented by Cosmo Darts
Saturday, November 20th in New York City. Hosted by legendary darts MC Richard Ashdown
The top 8 U.S. players take on the top 8 Canadian players from the 2021 Championship Darts Circuit with the winner banking $3,000 and earning a berth in the 2022 Professional Darts Corporation US Darts Masters and North American Darts Championship to be held at Madison Square Garden!
Event Details
North America's Biggest Day of Darts
Doors Open at 11:00AM
Starts at 12:00PM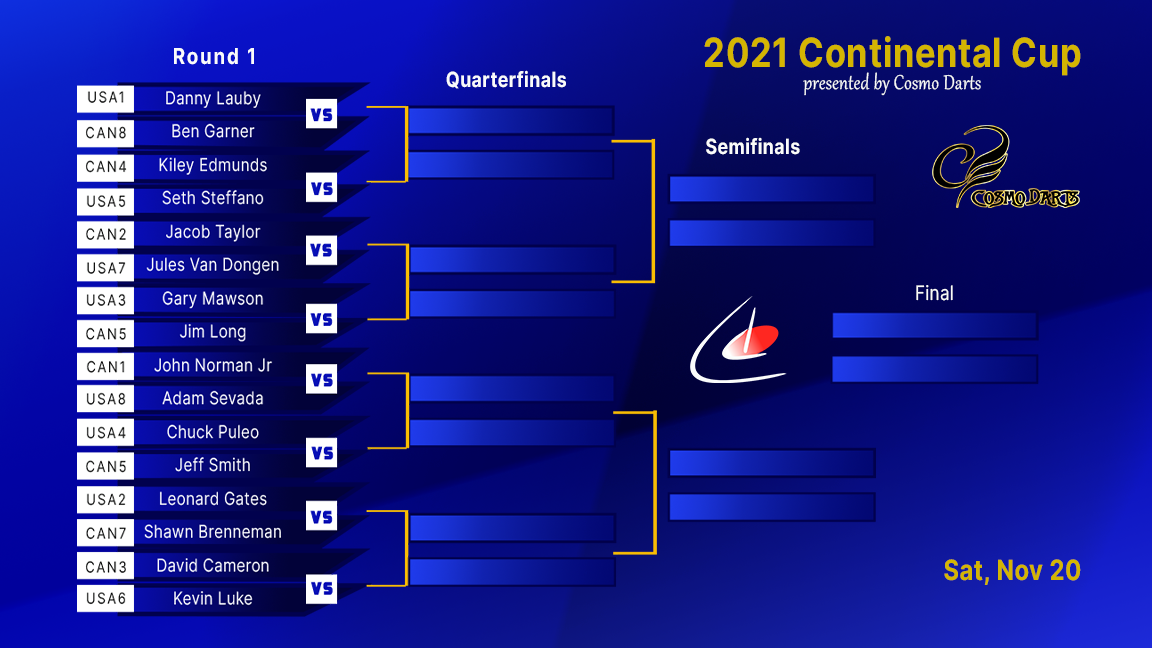 Hourly Schedule
Continental Cup Finals
12:30

Match #1 - Best of 9

Kiley Edmunds (CAN #4) v Seth Steffano (USA #5)
1:00

Match #2 - Best of 9

Jacob Taylor (CAN #2) v Jules Van Dongen (USA #7)
1:30

Match #3 - Best of 9

Dan Lauby (USA #1) v Ben Garner (CAN #8)
2:00

Match #4 - Best of 9

Gary Mawson (CAN #3) v Jim Long (CAN #6)
2:30

Match #5 - Best of 9

John Norman (CAN #1) v Adam Sevada (USA #8)
3:00

Match #6 - Best of 9

Leonard Gates (USA #2) v Shawn Brenneman (CAN #7)
3:30

Match #7 - Best of 9

Chuck Puleo (USA #4) v Jeff Smith (CAN #5)
4:00

Match #8 - Best of 9

David Cameron (CAN #3) v Kevin Luke (USA #6)
6:15

Quarter Finals Match #9 - Best of 11

TBD
6:45

Quarter Finals Match #10 - Best of 11

TBD
7:15

Quarter Finals Match #11 - Best of 11

TBD
7:45

Quarter Finals Match #12 - Best of 11

TBD
8:30

Semi Final - Best of 13

TBD
9:15

Semi Final - Best of 13

TBD
10:00

Finals - Best of 15

TBD